Home > Company Information




Company Background

SN Global Co., Ltd. Since 2000, has provided a wide range of service for Ship brokerage, S&P for Marine and Offshore equipment, Cargo vessel chartering and S&P for Container box as well as Scrap vessel, Ship repair and New shipbuilding to domestic and overseas clients.

Our major clients have been ship owners, shipbrokers, equipment manufacturing companies, ship builders, shippers, shipping agents, container box manufacturers and other marine relevant ones.(http://worldwidemarine.net)

Thanks to success like the above B2B business, we are now pleased to launch a second Homepage (http://www.gohomestay.com) since August 2002, also thanks to the internet, to reinforce our services to the clients and to have ourselves nearer the clients, so that real-time services can be achieved.

It is our goal and pursuit to make our web site become the real market leader at Homestay business area which support the clients to obtain the most beneficial results and good connection what they go and/or experience.

In the process of developing e-marketplace world wide, we look forward to SYNERGY EFFECT of combining on-line business method and off-line business method as well, which will obviously contribute to B2B our site is in pursuit of, and this will eventually bring WIN-WIN Model.



Organization Chart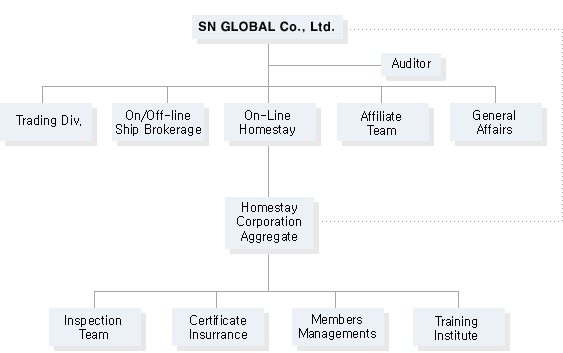 Address

| | |
| --- | --- |
| T e l | : + 82 2 6092 - 8147~8 |
| F a x | : + 82 2 6092 - 8150 |
| E-mail | : info@gohomestay.com |
| Address | : Joongang Bldg 4FL, 44-26 Yeouido-dong, Yeongdeungpo-gu, Seoul, Korea. |



Company Map